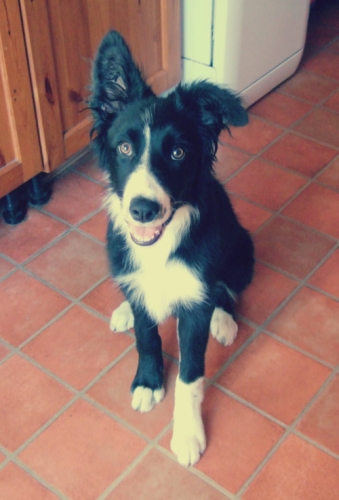 I've just finished two little stories. One is for children, titled 'Scout and the Invisible Cat who used to be a knight.' The other is a spooky short called 'One October Evening.' I don't think they reach 1000 words between them; that's why they took so long.

I miss being around wordy, writing-y people. Who understand that writing is harder for writers, not easier. Who've heard of Slaughterhouse-5 and Love in the Time of Cholera and Catch-22. And Neil Gaiman and Jasper Fforde.

Last, last weekend I went to Cheltenham to see a friend and to see Neil Gaiman. I hitched a ride to Newport with my in-laws who'd just been to visit, got the train to Gloucester and the bus to Cheltenham and arrived just in time. He was lovely, of course, and we did queue in the rain, and of course it was worth it. I wanted to talk to him for hours but all I managed to say was my name.

We did get a wee reference in his blog: http://journal.neilgaiman.com/2013/10/a-perfect-week.html

I went to Cheltenham, and talked and signed at the literary festival there: 400 people queued up afterwards, most of them in the rain, and I felt very guilty indeed.

He shouldn't feel too guilty. I mean, we were there because we wanted to see him. He was just there because he's nice or something.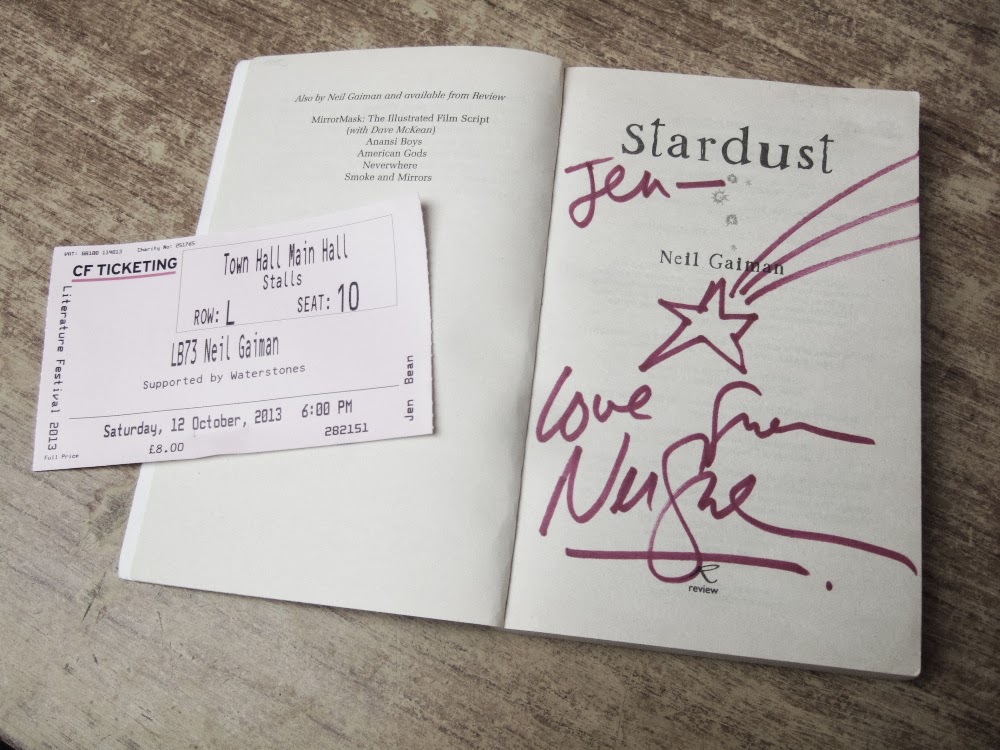 I missed Jasper Fforde in Penarth / Newport, and the MCM Expo London Comic Con, which saddened me. On the up side, I now have a job! Hooray! Huzzah! Hoorah!
And coming up, oh coming up...
November 30th Hay Festival Winter Weekend, and more specifically Jasper Fforde talking about The Song of the Quarkbeast, at 5:55pm, for £5. I have to check my schedule for this one www.hayfestival.com/p-7289-jasper-fforde.aspx
March 1st & 2nd (weekend) Cardiff Film & Comic Con www.cardiffcomiccon.com
March 27th - 30th (Thurs to Sun) is the Sci-fi Weekender in Pwllheli (that's in North West Wales)
www.scifiweekender.com
April 27th (Sunday) is Wales Comic Con in Wrexham (North East Wales)
www.walescomiccon.com
May 15th - 18th (Thurs to Sun) Crime Fest, Bristol
www.crimefest.com
June 20th - 22nd (Fri to Sun) is the Dinefwr Literary Festical (South Wales)
www.dinefwrliteraturefestival.co.uk
These are just theose I'm definitely visiting, so far, and the line ups look GOOD. Not to mention Fforde's next and newest book is coming out in spring/summer 2014. Tour?
Alas, there is no Fforde Ffiesta next year, and I missed this year's because of the Money Thing, but I'm going to start planning 2015's anyway. (It's the 23rd - 24th May 2015.)
www.ffordeffiesta.co.uk